Today's climate in Law Enforcement creates incredible pressures and enormous stress on our nation's Police Officers. The daily exposure to continued trauma and stress not only takes its toll on the officer's mental health but often times transfers to the officer's spouse and family.
Code 4 Family is a 3-day workshop focusing on understanding & identifying common mental health factors affecting Police officers; as a result of their continuous exposure to trauma and how trauma can trigger certain emotions and behaviors. This workshop will provide the officer and their spouse/partner, with practical tools that when used successfully will help identify, build and strengthen an officer's resiliency at work and home.
Course Outline:
Day 1 | Law Enforcement Culture & Trauma
Day 2 | Interpersonal Effectiveness - Lessons Learned, Skills Activities
Day 3 | Putting it all Together - Overcoming Barriers, Mindfulness, Mutual Understanding & Partnership
Post Approved:
16 Credits Hours, Crisis Intervention and Mental Illness Crises (CIMIC)
Attendees:
Law Enforcement and their spouse/significant other.
Session Type:
In-person conference
Duration:
3-Days
Hotel Information: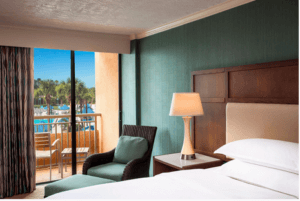 Rooms $209 per night (Back the Blue discount rate applied). Contact reservations at (727) 595-1611 or group.reservations@sheratonsandkey.com
Group rates only available through December 18, 2023
Conference Cancellation Policy:
Full refund available, 60+ days prior to the event.
50% refund available 59-30 days prior to the event.
No refunds will be made 29 days prior to the event.
---
Sponsorship Opportunities:
If you or your organization would like to participate in this event as a sponsor, please send us an email to discuss.
Email us at letac@eckberglammers.com
LAW ENFORCEMENT TRAINING ACADEMY & CONSULTING
This course is offered and conducted by Eckberg Lammers' Law Enforcement Training Academy & Consulting team of experienced trainers and consultants. Information provided in these trainings does not constitute or contain legal advice, nor do they establish and attorney-client relationship.